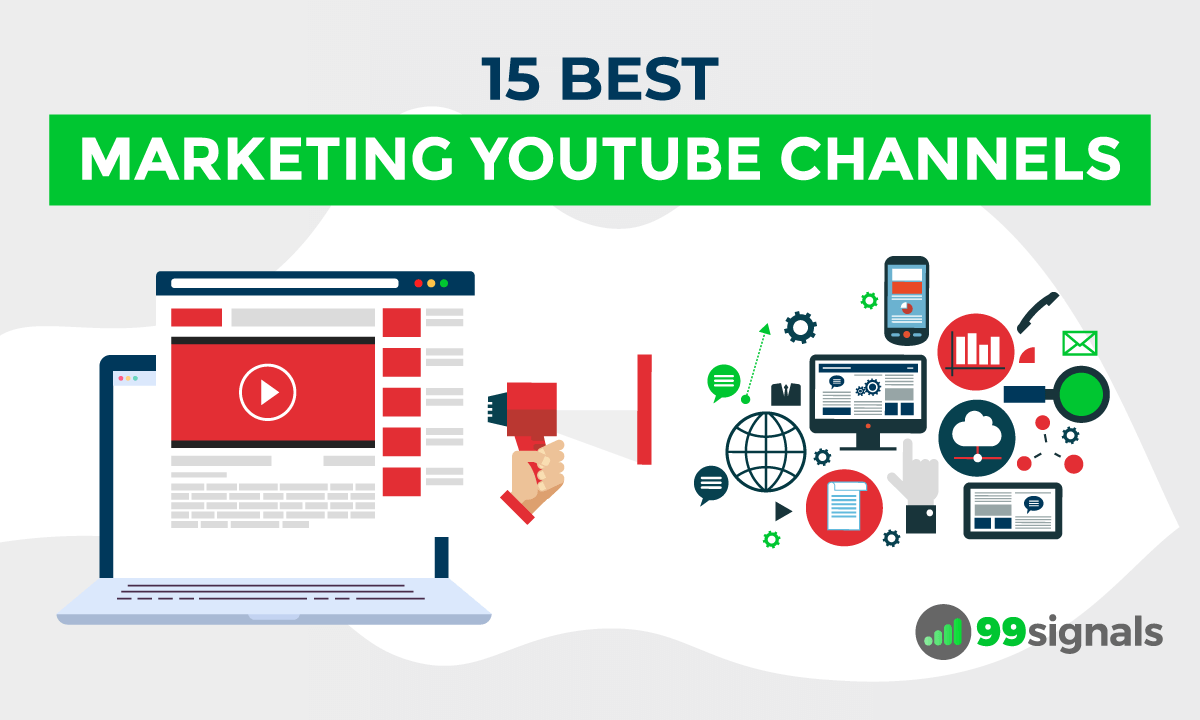 YouTube is a great place where both new and experienced marketers can learn new ideas and tactics to get traction for their business.
Marketing beginners can learn everything they need to know about different facets of digital marketing, SEO, content marketing, analytics, and more.
Similarly, marketing veterans can get up to speed with the latest trends in the rapidly changing marketing landscape and learn better and smarter ways to create and sustain growth for their business.
YouTube has no shortage of exceptional marketing content. With so many marketing YouTube channels to consider, figuring out which ones to follow is tough.
This post is an attempt to separate the wheat from the chaff. The list below features 15 of the best marketing YouTube channels you should follow, along with a few honorable mentions at the end.
In addition to the description of the specific YouTube channel, you'll also find the most popular video on the channel (based on total view count) and my three favorite videos from the channel to help you get started.
Side note: This list will specifically touch upon the marketing content uploaded by these creators. If you'd like to subscribe to YouTube channels that specifically cater to entrepreneurs, please refer to this list of best YouTube channels for entrepreneurs.
Top 15 Marketing YouTube Channels
Pat Flynn is one of the most respected and well-known digital marketers in the world. His blog Smart Passive Income is widely popular amongst marketers and is an inspiration to anyone who'd like to make passive income online. His weekly podcast of the same name is one of the most popular marketing podcasts with over 60 million downloads.
Since launching his blog-based business in 2008, Pat Flynn has generated over $6 million in earnings through various income streams: affiliate marketing, digital products, online courses, books, advertising, and more.
Pat Flynn's YouTube channel is an extension of his blog and podcast where he shares a wide array of techniques and strategies to generate passive income online and grow your online business. He also shares his thoughts on trending marketing topics and occasionally shares productivity hacks.
If you'd like to learn the nitty-gritty of running a successful blog, this marketing YouTube channel is a must-follow.
Subscribers: 295,000+
Most Popular Video: How to Start a Podcast (Complete Tutorial)
Subscribe to Pat Flynn's YouTube Channel
My 3 Favorite Pat Flynn Videos
Ahrefs' YouTube channel features a treasure trove of helpful content for SEOs and online marketers alike.
Not surprising considering Ahrefs is one of the best SEO tools on the market. My personal favorite is Semrush, but Ahrefs is a close second.
Most SEO tools have their own YouTube channel. What differentiates Ahrefs' YouTube channel from others is the consistent stream of helpful tutorials on SEO topics like keyword research, link building, technical SEO, and everything that's trending in the world of SEO today.
It's because of this commitment to consistency that Ahrefs' YouTube channel has more views and followers than its competitors.
In addition to SEO tutorials, you'll also find a handful of case studies from research and marketing experiments conducted by Ahrefs. For example, in their 3-part link building case study, you'll learn how Ahrefs created an SEO statistics blog post and the exact link building technique they used to build backlinks to that post.
If you'd like to learn how to grow your organic traffic, Ahrefs' marketing YouTube channel should definitely be on your radar.
Subscribers: 230,000+
Most Popular Video: SEO for Beginners: A Basic Tutorial for Higher Google Rankings
Subscribe to the Ahrefs YouTube Channel
My 3 Favorite Ahrefs Videos
Brian Dean, the founder of Backlinko, is one of the most respected figures in SEO. If you're an SEO beginner, Brian Dean's in-depth guides on SEO topics can help you get acquainted with various SEO concepts that will help you achieve higher rankings for your site.
On his channel, Dean shares actionable SEO, link building, and content marketing strategies that you can use to grow your business.
He also shares real-life examples and SEO case studies to show you the exact techniques he's using to increase his website's organic traffic. For example, in this link building case study, he explains how the "Guestographics" strategy helped one of his readers boost his site's search traffic by over 900%.
Subscribe to Brian Dean's YouTube Channel
Subscribers: 425,000+
Most Popular Video: How to Get More Views on YouTube
Subscribe to Brian Dean's YouTube Channel
My 3 Favorite Brian Dean Videos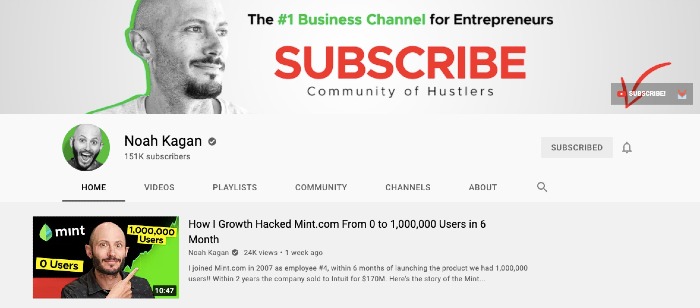 Noah Kagan is a serial entrepreneur who's launched several successful SaaS companies. He's widely known for being Chief Sumo at AppSumo, a popular online marketplace for entrepreneurs. AppSumo's channel itself is featured later on this list, but let's cover Noah Kagan's channel first. 
Noah's chann