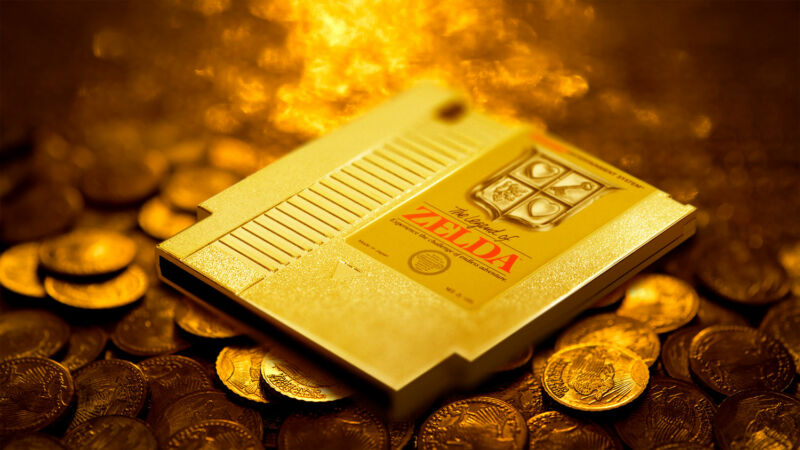 Le record du monde du jeu vidéo le plus cher vendu aux enchères a maintenant été dépassé d'un montant ahurissant, grâce à une copie scellée et classée "9.0" de 1987. LA légende de Zelda.
Une copie en boîte de la première impression du jeu sur la NES américaine vendue vendredi via Heritage Auctions à un énorme 870 000 $, dépassant largement le précédent record des enchères de jeux de 660 000 $. Cet honneur est allé à une rare copie scellée de l'original Super Mario Bros., également pour la NES américaine, il y a seulement trois mois.
Cette semaine Zelda L'enchère a commencé avec une offre d'ouverture étonnante de 110 000 $, mais ce montant a été mérité par sa rareté particulière. La copie en question faisait partie d'une série de production de fin 1987 baptisée « NES R », qui a précédé la série de production initiale plus large du jeu au début de 1988 (surnommée « REV-A », selon un marquage sur sa boîte). Ce dernier était une course beaucoup plus large qui coïncidait avec l'explosion de la popularité américaine de la console, et il comportait également une cartouche en feuille d'or. Ainsi, ne présumez pas que votre brillant Zelda cartouche dans un vieux tiroir vaut en quelque sorte près d'un million de dollars, d'autant plus que cette vente aux enchères se trouve dans une boîte d'origine scellée.
Les historiens du jeu connaissent une autre série de production antérieure à la NES R, mais il n'est pas clair si ces copies "NES TM" ont déjà quitté le siège de Nintendo ou ont été stockées de manière similaire dans des boîtes et des scellés. Comme Heritage le prétend lui-même dans la page de liste de la vente aux enchères : « Essentiellement, cette copie est la première copie scellée que l'on puisse raisonnablement espérer obtenir. (Ils ont oublié d'y ajouter la balise cruciale "à moins que votre père ne travaille pour Nintendo", bien sûr.)
Cette copie NES R de Zelda était le point culminant de La dernière vague d'enchères de jeux d'Heritage, qui, au moment de la publication, comprend les résultats époustouflants suivants, tous pour les classiques du jeu en boîte et scellés. Cette liste de prix particulièrement élevés est en grande partie liée à des indicateurs spéciaux de la première production d'un jeu, avec deux « cercles » cruciaux à l'esprit : le sceau de qualité Nintendo circulaire sur les premiers jeux NES, et un autocollant rond de marque Nintendo qui garantissait que la boîte en question n'avait pas encore été ouverte.
Super Mario World, SNES : 360 000 $
Super Mario Bros., NES ("No Rev-A") : 228 000 $
Final Fantasy, NDA : 204 000 $
Les frères Mario., NDA : 156 000 $
Contra, NDA : 150 000 $
Super Mario Bros 3, NES (une rare impression du texte "Bros." aligné à gauche) : 120 000 $
Final Fantasy III, SNES : 96 000 $
Legend of Zelda : Un lien vers le passé, SNES : 96 000 $
Punch-Out de Mike Tyson !!, NDA : 84 000 $
Bol Tecmo, NDA : 45 600 $
Crapauds de bataille, NDA : 38 400 $
Tengen Tetris, NDA : 33 600 $
De plus, une rare Championnat du monde Nintendo cartouche vendue aux enchères d'aujourd'hui pour 180 000 $, et sa liste allègue que son propriétaire a échangé une rare carte à collectionner de recrue Tom Brady contre le chariot. La même liste souligne que ladite carte de recrue a été vendue aux enchères pour jusqu'à 555 000 $. C'est du vrai sel dans la plaie du collecteur, Heritage.
Au moment de la presse, la vente aux enchères de jeux complète en question est toujours en cours, et il inclut toutes les générations de consoles imaginables, avec des offres d'ouverture dans les dizaines et les centaines de milliers pour les goûts de Super Mario 64, La Légende de Zelda : Ocarina of Time, Crash Bandicoot 1, Tomb Raider 1, et plus.
— to arstechnica.com